Our Promise
Whether it's sourcing fresh local produce, carefully searching for the right spice, or marinating meat for that extra day, we don't cut corners to give you the best experience.
We made it our mission to create dishes made from real ingredients without compromising on flavor and value.
ORDER NOW
What We Stand For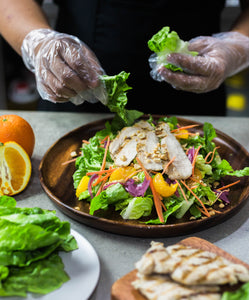 Keepin' It Real
We're committed to using real ingredients from local farms delivered fresh every day. We make all our food fresh, in-house. It may be the hard way, but it's the right way.
Better With Time
We filled our menus with the best ingredients we know: time and love! We don't hurry and let our flavors get to know each other through marinating periods and longer (and tastier!) preparation methods.
Local But Authentic
While our produce comes from our lush country, our spices and sauces come from around the globe to keep our flavors authentic. That means tahini from the Mediterranean, special Japanese soy sauce, and much, much more.
Hear it straight from our fans
We can't wait to try new offerings from you in the future! Remember the tasty dressings, ingredient quality and freshness is what really sets you apart from the chains! We love Mean Greens! ♥

Mean Greens Customer
Good value for money, healthy and love the packaging! So happy I discovered Bowlsome!

Bowlsome Customer on FoodPanda
The food was super good!!!! We will surely order again next time! :) I rarely give feedback to restaurants (unless needed), but I was just so surprised on how good your food was. Keep it up!!<3

Bowlsome Customer on GrabFood
It was really good! <3 The falalel had tons of flavor, and I appreciate that there were lots of veggies. Will be ordering again :)

Bowlsome Customer on GrabFood
Crispy and super juicy! The sauces are tasty and you feel that they use good ingredients kasi hindi ka nauumay after!

Chicken Shack Customer on GrabFood
See what others are saying about us on Foodpanda:

Bowlsome on Foodpanda